Artificial Lawns and Turf
A lawn makes the perfect addition to any garden. Whether you want to create a classic striped English garden or a safe place for children to play, nothing is more inviting than an immaculate lawn.
Get a quote to create your dream garden today!
Simply hit the link below to get a quote from London's #1 Landscaping and fencing company!
Get A Quote Today!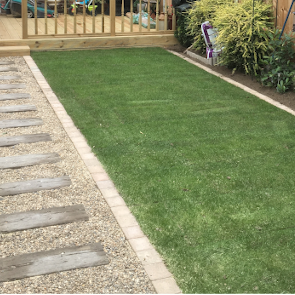 Small Lawns
Small lawns create a great place for lounging.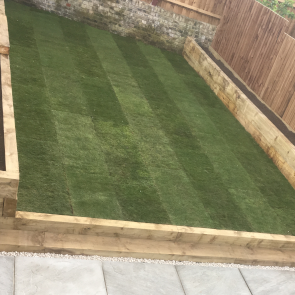 Larger Lawns
If you have the space, go big! Large lawns create a great place for activiies.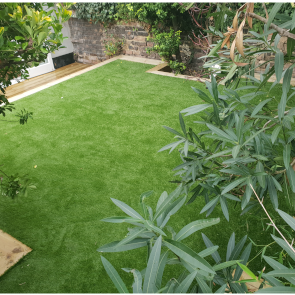 Artificial Lawns
Artificial lawns provide an inviting green area without the maintenance.
Why Choose Artificial Lawn over Real Grass
Real turf or artificial turf is a question we get asked regularly and there is no right or wrong answer, both have plenty of pro's and con's. The most obvious benefit of having an artificial lawn is not spending your day off work mowing it. However artificial lawns to have plenty of cons too, although artificial lawns are becoming increasingly popular, experts say it could have an effect on our British wildlife and lead to bigger problems with our ecological system further down the line. Before you make the call, we've put together a snippet of info to help you make a more informed decision.
What do you need to know;
1. What will your lawn be used for?
2. How busy are you? And will you have time to upkeep a real lawn?
3. What is my budget? (Artificial lawns are more expensive!)
4. Will children and pets be using the space regularly?
5. Is my garden capable of growing a healthy lawn?
Once you understand the purpose of your new lawn and have identified the pros and cons, it should be a lot easier to make an informed decision.
Real Lawns
Pros
• Great for the environment. An average sized lawn can capture up to 300 pounds of carbon per year!
• Real green spaces are great for our health and wellbeing. There's scientific evidence to support that people with real lawns in their back garden are generally happier than those without.
• A well maintained real lawn looks more inviting than any artificial lawn.
• A real lawn will compliment your plant and insect life as well as benefitting the whole ecological makeup of your garden.
• A real lawn is a lot more cost effective, giving you a higher budget for other areas of your garden.
Cons
• You will need to dedicate your time, especially in the summer to maintain your green space if you want it to look great.
• If you don't have time, you can book us for regular maintenance.
• Real lawns are not great with heavy foot traffic, if you decide to host a BBQ on the lawn it may not return to good condition for weeks.
Artificial Lawns
Pros
• Low maintenance and very little ongoing upkeep costs.
• The lawn can deal with high levels of foot traffic.
• You can use your lawn throughout the year and not worry about getting muddy.
• You can lay the grass anywhere in your garden and it will look pristine, no need to worry about shady areas.
Cons
• Cost, artificial lawns are more costly to supply and install when compared to real lawns.
• Artificial lawns do not lay well on steep areas so your garden will have to be relatively level prior to any landscaping works.
• Experts have discovered artificial lawns harm the local ecological system.
Get in touch!
Receive a quote for your garden today!